Big Pimpin'
What do the Vendee Globe champion, the Volvo Ocean Race winner and the solo mono 24 distance record holder all have in common? They all trust one company to keep them warm and dry wherever the hell on the globe they find themselves.
Armel Le Cle'ach and his entire Banque Populaire team stood out amongst the throng in the Vendee start village with their smart and sexy shoreside Musto gear, while Armel showed just how smart he is offshore with a brilliant, textbook race that let him finish some unfinished business.   Congratulations to both Armel and Alex and to Musto – pwning offshore for generations. Learn more at Musto's site.
January 20th, 2017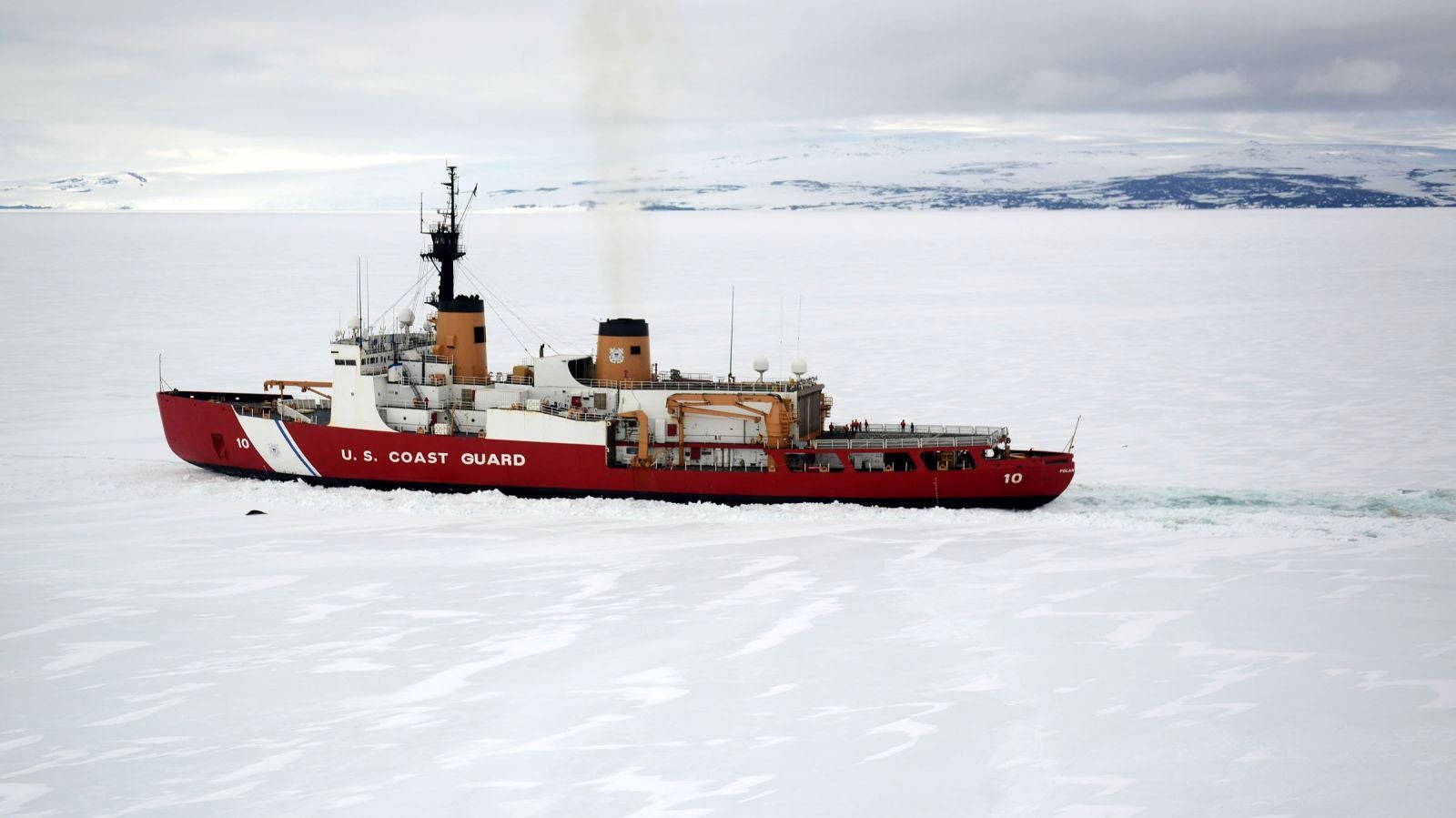 Ya gotta dig this great shot of the Coast Guard Cutter Polar Star cutting a resupply channel through more than 60 miles of ice in the Ross Sea to get to the National Science Foundation's McMurdo Station Tuesday.
By carving a navigable path through seasonal and multi-year ice, the Polar Star assists in the annual delivery of operating supplies and fuel for two of NSF's three U.S. research stations in Antarctica.
The Polar Star is America's only operational heavy icebreaker that is capable of conducting the Antarctic resupply mission. The cutter, which was built more than 40 years ago, has a crew of more than 140 people, is 399 feet long, weighs 13,500 tons and uses 75,000 horsepower to muscle its way through ice thicknesses of up to 21 feet.
January 19th, 2017
In the winter of 2013 I started, with my younger brother Sean, a Long Island based nonprofit called SailAhead. SailAhead is an organization that takes veterans suffering from PTSD and/or depression sailing as a form of therapy. I was 16 years old at the time. This year I will be 20, and this is how 2016 was such a moving year for me. Don't worry, it's not about politics at all. (Phew!)
Before I begin, let me tell you a bit more about SailAhead. First off, what do we do really? We introduce the therapeutic powers sailing has to offer whether it be cruising calmly and happily, or racing like intense maniacs in short or long distance races. So yea, SailAhead has been basically consuming all of my free time. Don't get the wrong idea, we don't just put wounded veterans on our boats and take them for a joy ride, we actually teach them how to navigate and sail with the goal that they teach other fellow veterans.
Being a civilian that I am, I can only connect so much with veterans when we sail. Our goal is to teach veterans to sail sufficiently so they can in turn, teach other fellow veterans to sail. Of course, because of the veteran-to-veteran contact instead of civilian-to-veteran contact, the bond they create will be infinitely more profound than if it was just me, because they can relate more with each other's struggles and experiences. The bond veterans create through sailing is a large factor that contributes to the therapy we try to provide.
Aside from PTSD awareness and networking events we organize with our partners, SailAhead has five core teams/programs that work in conjunction and are designed to get veterans of different interests, needs, and abilities, involved on the water. So after countless hours behind the computer, on the phone or on the water, I am proud to say that we are responsible for taking 1,000 veterans to the water in just 3 years! If you are interested in what we do more specifically then I invite you to visit our website at www.sailahead.org for more info on our programs and events.
Finally, I will tell you why 2016 was such an immensely moving year for SailAhead and myself. Upon reading the rest of this article, I wish you feel just as motivated as I did after realizing my new reality. It shook me, it motivated me, and I am pushing myself forward in positive ways for the sake of our veterans and humanity.
So like I said, 2016 was a very moving year for SailAhead because 219 new members, identified as our mates, have joined our ranks. These 219 mates have at least two things in common. One, they were once soldiers, and two, they each took their own lives.
According to the VA, at least 22 veterans commit suicide daily in the United States. The "22 a day" reality is what inspired Sean and I to create SailAhead, so with the permission of the families of these 219 veterans, we had the nametags of these veterans duplicated. These name tags come along with us when we sail with PTSD suffering veterans and we are honored to carry the spirits of our 219 mates every time we set sail. Because of the nametags, I designed a "219" flag which has become our banner. When this flag is up, you know our mates are on board sailing with us.
At least 22 a day means 220 veterans every ten days which is the size of a USMC size company lost. So why 219 as opposed to 220? This is because the one missing in that equation is the life saved. The lives SailAhead are trying to save. The flagship of our fleet flies a white flag with the number 219 in black in the center. In addition to the 219 mates that it represents, the number 2 on the flag symbolizes how SailAhead was started by two brothers, and the 19 represents the age of
Michael Blanco, a Long Island local US marine who was only 19 when he took his life on Monday, February 15th, 2010. The black of the numbers and white of the flag symbolize the fight SailAhead is in, like in a storm at sea, when the water is turned white by the frothy swells as they rise and crash, and the sky's turned black by the ominous menacing clouds overhead, trying their best to sink and derail those who sail beneath them. But we don't sink. And we continue to sail, sail ahead…
The camaraderie and intensity that racing and sailing has to offer is why in 2017, SailAhead appointed a Green Beret Special Forces Veteran in charge of the SailAhead (offshore) racing team, and is why we are currently looking for our own race boat. If you know anyone looking to sell or possibly donating a 'j105' type racer/cruiser (or any boat like a j105), please send them our way or contact us! You can contact us through our website. Thank you for reading!
-Kilian Duclay
January 19th, 2017
Big Pimpin'
If you can imagine it, we can probably build it.
Whether you manufacture pleasure boats, super yachts or large ships, the keys to success are the same: maximizing performance while reducing weight, cost and environmental impact. With core composite solutions from Diab you can do exactly that. In addition, the structural properties of our material allow for almost complete design freedom.
Diab offers a complete range of high-performance core materials, numerous finishing options and kit solutions, combined with renowned technical expertise, structural engineering services and applications training. With global manufacturing, sales and engineering presence, we follow our customers – and even anticipate their needs – positioning ourselves in strategic locations to best support them. This way we can ensure security of supply, cost efficiency, flexibility and local support.
Our successful combination of knowledge and technical excellence has already taken us to the top of the industry, in particular within marine applications. Diab core materials offer the highest strength per weight ratio, allowing for higher speed, longer range and greater payload capacity, as well as reduced power demand and lower impact on the environment. Furthermore, our materials provide excellent fatigue and slamming properties in sandwich structures, which makes them particularly ideal for vessels that often operate in high-sea conditions.
Our products and solutions have been used in a wide range of industries for decades and are all certified according to relevant industry standards. This excellent track record proves the quality and reliability of our materials and solutions, providing security and proof of performance few others can offer. Our dedication to making our business sustainable means we continually improve every aspect of our operations.
Having been in the business for as long as we have, we know what it takes to make a vessel both strong and light and we never rest on our laurels. Ever since the beginning, we have been dedicated to constant innovation and promoting a widespread adoption of sandwich core composite materials. What people say can't be done we do every day. So take your wildest design dream and let us help you realize it. Together, we can find the solution that suits your needs and makes your vessel stronger, lighter and smarter. Right here.
January 19th, 2017
UPDATE: French sailor Armel Le Cléac'h has today won the Vendée Globe, setting a new record for the solo non-stop round the world race in the process. Le Cléac'h, 39, from Brittany, crossed the finish line of the race in Les Sables d'Olonne, France, at 1537hrs UTC after 74 days, 3 hours, 35 minutes and 46 seconds at sea on his 60ft racing yacht Banque Populaire VIII.
His time sets a new record for the race, beating the previous record of 78 days 2 hours 16 minutes set by French sailor Francois Gabart in the 2012-13 edition by 3 days, 22 hours and 41 minutes. Le Cléac'h, the runner-up in the 2008-09 and 2012-13 editions of the Vendée Globe, covered 24,499.52 nm at an average speed of 13.77 knots during the race, which began from Les Sables d'Olonne on November 6 last year.
Armel benefitted significantly from the early-race foil breakage of what most believe to be a much faster design in Hugo Boss, but despite Alex Thomson pushing Armel as hard as maybe any human could have, we once again will have to wait another four years for the chance of a non-French winner to emerge from this quintessentially French race.
We continue to be amazed at Thomson's ability to remain glued to Le Cle'ach's transom for the better part of 70 days despite the damage to his boat, but Le Cle'ach played the game more as a wise owl than a sneaky jackal, and sailed a masterful covering match race from Cape Town all the way home.
While Armel had all the pressure of the favorite, once again, Alex has proved he belongs in the solo racing Hall of Fame with the performance of a lifetime.  Beating his own 2012 race time by nearly 10 days and setting the Vendee Globe and outright solo monohull 24 hour distance record in yet another edition (only exceeded by four crewed boats in the record books), Thomson really is the only hope for taking the title away from the French – and only if he comes back and gets it right, this time without the bad luck.  Photo © Jean-Marie Liot / DPPI / VENDEE GLOBE
Ask Alex and Armel ANYTHING!  We are 99% sure that we'll be doing audio or video with both these top dogs in the next day or two for the Sailing Anarchy Podcast, and as usual, we like your questions better than our own.  Ask Alex and Armel your own questions in this new thread and we'll see if we can get them answered.
Join the Vendee thread for the latest chatter.
Title should to the movie adaptation of a classic Forsyth spy thriller.
Tags: alex thomson, armel le cle'ach, banque populaire, finish, hugo boss, imoca, open 60, record, Vendee Globe, verdier, VPLP
January 19th, 2017
Sure it's a shameless rip off from Game of Thrones, but we wanted to bring something a little different to the Cortez Racing Association's first regatta of 2017.  We grabbed the opportunity to sponsor this event and we are not only stoked to do so, we thought it would be fun to add a couple new features to the norm.
First, we have Justin Edleman videographing the races with playback courtesy of Control Entertainment to be shown at Fiddler's Green during the post race party. As if coming to the party to watch how bad your boat sucks,  we have a couple of hostesses dispensing Mt. Gay Black Barrel Rum, courtesy of Mt. Gay – duh. One can only imagine where this might go…
We have a limited number of Winter is Coming tech shirts that we will be dispensing in the not typical CRA way of handing out raffle prizes, and mic duties will be handled by The Ed himself. It will be a thing to behold.
Racing? Yeah, we'll do some of that – two races, in the bay, January 28. The Ed likes to mix shit up, so don't be surprised to see, mmm… maybe a downwind start? Perhaps a reverse course? Perhaps nothing different at all?
There is really only one way to know for sure,  and that is simply to show up and go racing! Of course we want you CRA regulars to come out, but we'd like to get the most boats possible so if you are not a regular CRA racer, come out and The Ed promises special fun for you strangers!
Either way, when you add a little Anarchy to the ONLY club in town that consistently runs the best PHRF races in Dago, well that means that you simply have to be there. Step up and be a part of the scene. This sort of Anarchy may not happen again…
January 19th, 2017
But badass, no doubt! From Anarchist Joachim:
Self built from plywood left overs, on the cheap, 49 sqft sail area, loosely based on the ST49 design by John Eisenlohr. This was my third outing with the boat on ice. Still learning the ropes of wing sailing. (I have sailed most everything else, big and small – multiple national champion in Contender class) Fun, fun, fun! Effortless speed, all loads self contained in wing. Way more comfortable than a DN. Control with two fingers (and two big toes for steering).
Scary to feel the powers at work when the flow fully attaches and the boat just keeps accelerating, and keeps going faster and faster. Goes to weather real well, super efficient. None of the other boats that day could keep up with speed or angles, incl. the skeeters.
January 18th, 2017
While the leading boats in the Cape to Rio race are enjoying the spoils of Brazil; caipirinhas and more red meat that is humanly possible to consume, one team, the Ullman Challenge, is struggling to make the finish. They were rolling downwind in a decent breeze late yesterday when things came to a sticky end. Here is their message sent to Race HQ.
"Please be advised that The Ullman Challenge lost her rudder at 18H00 Z in position 22 50.5 S 040 15.7 W (approximately 158 miles E of Rio de Janiero).  All crew are safe and OK.  Rudder stock is intact and the vessel is NOT taking on water.  We will jury rig a rudder and continue towards Rio as best we can. We do not require assistance but would just like to keep everybody informed."
This team, made up of mostly non-white sailors from very impoverished neighborhoods around Cape Town were, as their slogan states, Following a Dream. They were holding their own in a very competitive fleet and fast closing in on the finish line when the rudder blade sheared off without warning. The sea condition was rough but overnight they have been able to fashion two jury rigs using floorboards out of the boat. One jury rig is for light wind conditions and the other is for when the wind picks up which it is expected to do as they get closer to the finish in Rio.
This morning navigator Nick Leggatt sent the following update. "We are now within sight of Cabo Frio. Our intention is to complete the race under our own power and to declare that any hours that the engine was used was done so to avoid ships and rocks. The wind remains from the NNE at 20-25 knots.  Sea state remains rough but manageable. Less than 100 miles to go to Rio.  With boat speed around 5 knots we expect to arrive sometime on Thursday."
Here's wishing the 27 year old skipper Theo Jon and his team a safe sail into the shadow of Sugarloaf Mountain and congratulate them on persevering when it would have been so easy to take a tow.
January 18th, 2017
Now this is the look we like. But the question remains, "what is it"?
January 17th, 2017
In news that will make even the most cynical US Sailing Team spectator rejoice, Anna Tunnicliffe has entered her Laser  in the Sailing World Cup Miami next week for the first step in what everyone hopes is a huge comeback.  By most accounts the fittest sailor in the world (and possibly the single fittest athlete on the entire US Olympic Team back in '12 according to USOC staff), Tunnicliffe famously ditched her 2016 campaign for a life of Crossfitting with her significant other (and you really want to see that photo…)
Tuna did well in the huge world of Crossfit but failed to set the world on fire,  and we're praying a good result in Miami will get her sailing passions rekindled for the 2020 cycle.  Anna is an absolute beast on the water and she'd be an immediate medal favorite anywhere she competes, but she adds a lot more than that to any team: Her work ethic, mentoring ability, and team leadership are legendary. Anna's already been working out with the team in Miami, and she's picked up right where she left off.  Please, Anna!
January 17th, 2017