We love Justin Edelman's work. The subject of this well shot and produced video by him is something that we  kinda scratch our heads over. $3 million for a 52 "class" boat that likely has almost no growth potential?  We know one boat  has a budget of $1 million a year just to run it, with 7 pros onboard every time they leave the dock. We get that this is how the money boys play, couldn't one get a fully sorted out year-old TP52 and arguably have a better boat? For less?
We do see about the 'offshore' capabilities and we dig that the mast is a meter taller than a TP 52. Time will tell on this project, but they are off to a good start…
March 27th, 2017
We don't think we'd be running a press release touting that "The Bermuda Race Organizing Committee (BROC) is pleased to announce that multihulls will be welcomed into the 2018 edition of the Newport Bermuda Race."
2018? It took you tight-ass conservative hand wringers that long to finally give your sainted blessing? That "after careful study and consideration of the unique and challenging characteristics of our race to welcome multihulls of 58 feet and longer" you have decided to let the colored folk in? But if I have, say, a HH 55 catamaran, I can't enter??  What, too black for ya?
This announcement is not to be heralded; rather the organizers are to be derided for such an incredibly and ridiculously delayed decision to partially lift the decades of bias, prejudice and ignorance of the blue blazer club against multihulls.
So you woke up from your dummy slumber and almost did the right thing. Whatcha want, a cookie?
March 27th, 2017
Mike "Rail Meat" Hennessy reveals the secret sauce behind being the only overall winner in the short history of SORC's Miami to Havana Race.  Turns out it's all about adversity.  Photo of a local taking 'selfie with dragon and Morro" during the Saturday 'in-port' race in Havana Harbor thanks to Mr. Clean, and title thanks to one of the most influential albums in history.  Race chatter here. 
Just getting to the start line of this race was an epic of Homeric proportions, with canceled flights and snow storms providing me the opportunity to drive from NYC to Charleston in one 13-hour effort last Monday night. Charleston offered one of the first opportunities far enough south of the storm to allow an actual scheduled flight to make it to Miami, and fueled by caffeine and questionable food choices, I made it in time for a 6:30 am departure on Tuesday.  After meeting up the crew, a low key and warm party at the Coral Reef Yacht Club, and then a team dinner I was finally able to get some sleep.
It was a 10 AM start, with winds from the NW in the low teens. We were initially blanketed by Metolius which let Long Bow jump out to a lead in the left lane, but some smart choices about the gybes to get east of Fowey put us back into contention and just behind Simon Says as we started legging it down the reef line.
The first leg of this race is a necessary drag race south, hugging the reef in an effort to keep out of the Gulf Stream to a point around Islamorada where the rhum line then diverges from the coast and heads out across the Florida Straits. In this section we saw the wind build and shift west, necessitating a switch from kite to solent and finally two reefs in the main and the  trinquette (the smaller inner forestay sail) as the wind built into the mid-twenties and far further west than forecast.  We had been playing cat-n-mouse with Long Bow, but they hung onto their kite for a bit too long (wipe outs) then switched to a Code that quickly became too much sail, then had some troubles with their take down all of which let us leg it out on them by a bit.
The first real choice in this race comes at (or somewhat before) Islamorda, deciding when to transition from the drag race of a first leg and into the second leg that takes you across the Stream.  Go east early to get across the Stream and play the weather forecast for a favorable angle in the third leg to the finish?  That worked well for Trebuchet last year when they set the benchmark time.  Or down the rhum line, maximizing your time in current but offering the tempting shortest distance and the likelihood that you cover your competition?  Or stick with the reef, sacrificing distance but minimizing your time in current?  It is this choice that makes this a navigators' race, and tactically as challenging as any distance race that I have done.  All the marbles, on one decision.
In 2016, we won the race based on unexpected weather.  The forecasts at the start called for a N to NW that would swing to a NE about halfway through that meant the rhum line was favored in the routing models. And that is what the majority of the fleet followed.  But as we approached Islamorada around 7 in the evening, I pulled down fresh weather that showed the shift coming much later than originally forecast, which favored holding the starboard gybe for a much longer period, hugging the reef all the way to Key West and even beyond before gybing over.  The weather allowed for us to stay out of the current, but had that the original forecast held, we would have been forced to make the choice to go down the rhum line.  Instead, we went past Key West before Ashley Perrin called the lay line from 80 miles out and the rest was history.
This year was a different story.  The Tide Tech models and SST (surface temperature) observations pointed to a conventional Gulf Stream that met up with Florida at Key West and offered only a mile or two of relief between the northward column of water to the east and the coral ship breakers to the west.   But we knew something different.  Our participation in the Cuba Cup from Montego Bay to Cuba / Key West in late February pointed to a Stream that was much further south in the Florida Straits, one that was very close the coast of Cuba and with a wide gap of relief between the Stream and the southern keys.  So, on March 12, when Kyle Hubely left Stock Island to deliver Dragon north, he headed straight south out to find the western wall of the Stream.  Almost 40 miles south. Then he turned and followed the western wall until it met up with the Keys just north of Marathon, measuring current every few miles and marking up the chart.  We knew for a fact where we had to hug the rocks, and where we could free out selves from the reef and start to cut the corner without paying a penalty.  All we had to do was see what the weather would allow us to do.  Meanwhile, any boat taking the rhum line or the easterly route would actually see adverse current for almost the entire way across the Straits, never getting the usual relief that comes on the south eastern side of the Stream.   This year's conditions meant the Stream dictated a course that split the difference between last year's tactic and the rhum line choice, and then weather and our reconnaissance allowed us to execute with a level of precision that was a distinct advantage.
The weather cooperated beautifully.  The actual winds went west and blew 25 to 28 much of the night which lured much of the fleet into the more physically comfortable ease down the rhum line. Meanwhile, we stuck to our plan and did a very shy reach along the curve of the reef until 1 AM or so when it dropped to high teens / low twenties and allowed us to get into the solent near about the time we reached our mark at Marathon Key where we also could ease off bit-by-bit and follow the western wall of the stream.  That ease gradually took us into the Code then the Kite as the move freed us into reach and then run.  It also traced a gradual curve away from the Keys and towards Cuba, all while maintaining the same board.  By the end of the race, we spent less than 4 hours in the Stream.
A forecasted shift to the NE ultimately did show up, but very late in our final run into Havana and we were able to gybe into port board and then downshift into the solent as it pulled forward.  In total we did two gybes up at Miami, and one gybe down off Havana for a total of three maneuvers.
We sailed right up the channel and dropped the sails as we approached the Customs dock where we saw Simon Says still clearing all the formalities.  When we got to the dock and found out how their quadrant issues allowed us to be right behind them, we got our hopes up.  The J125 Raising Caine did an awesome job and was close on our heels but we owed them very little time and felt pretty comfortable as we put the boat away.  More worrisome was Detroit's Chico 2, where we owed the 1D35 a ton of time.  As we watched them finish, we ran a quick calc of TOD, and thought that we might have lost to them by about 20 minutes.  It was not until much later when we got a chance to see the TOT results that we found out that we beat them by that same approximate 20 minute margin.  They had a tough crew and raced an excellent course.  If we meet up again, I will be sure not to underestimate them.
It could not have happened without a great crew.  Kyle Hubley is doing a thousands of miles of double handed racing with me on Dragon this year, including this race.  We were joined by Mark Washeim, long-time sailmaker for the beast, as well as Nick Halmos who is the former owner of Cutlass, a sister ship to Dragon that is now First Light (and is for sale).  Rounding out the crew was Jen Edney who put down her camera for once to stand watches and pull various bits of string, and Evan Langford who at 18 has a shared claim to a victory for his very first offshore race.
Hats off to the competition, and a huge thank you to Chris Woolsley and the SORC for hosting what is a tactically challenging and completely excellent race.  They are learning something new each time, and it has and (I am sure) will continue to improve.  The event is on its way to becoming a Classic and if any of you are mulling over a trip south for some warm weather winter sailing and a shot at the podium in 2018, I highly recommend it.  Dragon will be there to defend, and we have no plans of taking anything for granted.
March 27th, 2017
March 26th, 2017
Big Pimpin'
When builders point to the greater volume of a new model over its predecessor the risk is that the increase has been achieved at the expense of looks. More volume rarely leads to better aesthetics. Yet Oyster's G6 range marks a step forward in both areas, delivering sleeker, more modern appearance while offering significantly more space above and below decks.
But the new style is much more than simply a smart exercise in creating a good-looking, voluminous boat. Since the G6 range was first announced in 2012 the project has been an ambitious one that extends from the new flagship of the fleet, the 118 that is currently in build, through seven models, to the recently announced 565 and 595s. A comprehensive new lineup that is arguably one of the boldest in the company's history. There are certain details in the G6 approach that stand out immediately.
Stepping onto the new 745 (above) most noticeable is the sleeker, lower profile deck with its tinted, wrap-around saloon windows. The landscape oriented 'seascape' hull port lights are another signature of the new marque. Cleaner-looking, clutter-free decks are also part of a new style, as are sail plans that incorporate blade jibs, bowsprits, swept-back spreaders, full-width chainplates and carbon rigs. Read on.
Title inspiration right here.
March 26th, 2017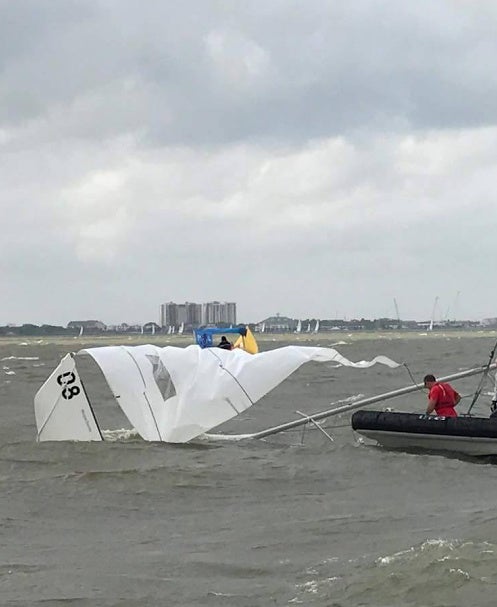 This seems like a good time for a caption contest. This shot from the J/22 Midwinters at Southern Yacht Club. Props to Anarchist Grant.
March 24th, 2017
Thanks to the wishes of an uber-secret previous owner, images and videos of the monster Gunboat 90 have been scarce since her launch.  But now that the biggest and baddest cruising cat of all is up for sale, the covers are coming off for the world to see.  She's got the M&M 'battleship' lines that so many love about the pre-2013 Gunboats, and this girl is definitely the only luxury superyacht that can easily hit 30 knots under sail and embarrass any other superyacht on the planet around the cans.
We're not superyacht lovers by any means, but if we were billionaire industrialists or climate-denying oligarchs, this is what we'd sail away on once the coasts are under water and the poor are eating the rich.   Hit up Nils for more details about the G90 or to arrange a (carefully pre-qualified) test sail.
March 24th, 2017
Big Pimpin'
For generations, families have gone into the woods to dig up time capsules. Relics of the past, to see how things were done way back when. For anyone who dug up an old Club 420, they were able to take it straight to the racecourse and give it the whip.
So many of us wonder why our kids are racing the same boats we buried in the backyard years ago, which is why it's so encouraging to see some brilliant moves by Class leaders that have allowed the Club 420 to hit a sharp upswing in popularity.  Series scoring, smart championship and event venue choices, and creative work in partnership with builders Sturgis, Zim, and LP continue to add value to one of the foundations of youth sailing in America.
Managing a one-design class is a difficult balance between honoring history and keeping up with the times, and improvements can be painful in the short term even while they make the boat better, newer, and more exciting again. We've seen it with the E-Scow, Laser, Sunfish, Thistle, J24, and Melges 24, among others, and over this past winter season, the Club 420 has seen a unique and successful effort by the Builders and the Class, working together, to modernize the gear while adding a bit to the safety and ease of use.
The changes may be minor, but for 420 sailors, they give us some new gear to geek out on. There's a new spinnaker cut to make the reaches more fun, plus a new rig package from Seldén which offers a lighter boom, plus updates the mast to replace the high-maintenance items with smarter and stronger parts.  Now the kiddos can even fly around the course with the same boom their Team USA heroes Stu and Dave took to Rio in the 470; if you've got young ones- the new gear is available from each of the class Builders. (Sturgis, Zim & LP).  Click the photo above or go here for a closer look at the new boom with Club 420 ExecDir John Vandemoer.
It shouldn't be understated how important the C420 class is for the future of Sailing, and we're all lucky for the current board of innovators and lifelong class stalwarts, so if you see one of them at the bar or in the boat park, buy 'em a round and see if there's an event in your area you can help out with next year! You may leave the weekend with new inspiration from Youth Sailing.
For a discussion about Selden and the growth of youth sailing in the USA, check last month's Sailing Anarchy Podcast with Tim Fitzgerald, and keep an eye on Selden Mast Facebook page for more innovations over the coming months.
March 24th, 2017
Love him or hate him, the first man to win a non-stop RTW race has certainly earned every sailor's respect in his long, long life, and his history isn't even the most interesting thing about him.  Our fascination with Sir Robin Knox-Johnston comes from how little he seems to give a shit about anything that ain't him.  If you ever get a chance to listen to some of his tales at a marina or a boat show (preferably after the gin starts flowing), we highly recommend it – just don't expect him to remember your name!  We share a short excerpt below from a very well-written profile on the Clipper Race boss from Avaunt Magazine; you can share your own RKJ stories in the thread.
"I was out sailing with my grandchildren in the harbour here, they were all in lifejackets and I wasn't wearing one, and the patrol came up and said, "You should be wearing a lifejacket. It's the law."

And I said "No it isn't. The reason I'm not wearing a lifejacket is that if one of them falls in, I want to be able to swim after them. A lifejacket would be a hindrance."

"Well our advice is that you should wear one."

And I said, "So what qualifications have you got?"

He said, "I've got my Boatman's Licence."

And I said, "Well I've got a class one Masters' Certificate, and I don't need advice from a ruddy boatman. So fuck off."
March 24th, 2017
Second over the line to the Andrews 68 Simon Says (ex-Terrapin), first in class, and the overall winner for the second straight year, Michael Hennessy and the Dragon crew were first to the Hemingway Yacht Club bar by a long, long way, earning him the new nickname "Sr. Habana".  We'll have a full report on what's going on in Cuba and the Miami to Havana Race from Mr. Clean in an upcoming podcast; until then, check out our future Sailor Chick of the Week in this video with 13-year old Vieva Mulhall from aboard the PHRF C winning Testing Life.
Full results here.
March 24th, 2017