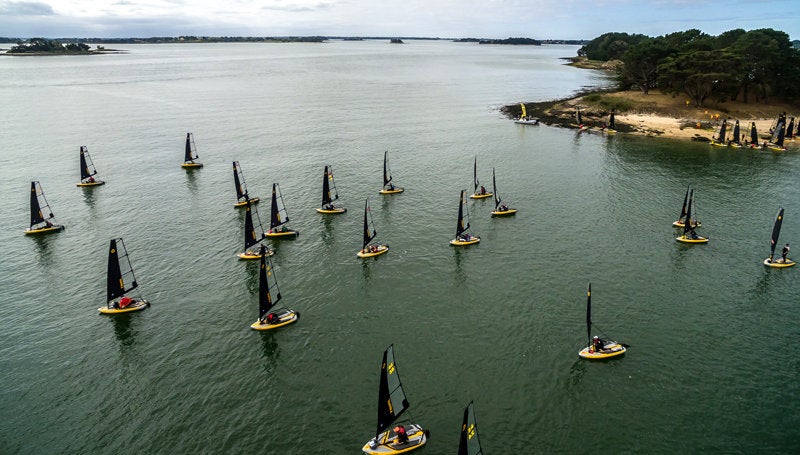 On Saturday 3rd June, 53 inflatable dinghies lined up for the 4th edition of the TIWAL Cup in the Gulf of Morbihan (France) – an annual event for fans. Participants came from the United States, New Zealand, Hong Kong, Malta, Sweden and all over Europe to take part in this fun and sporting challenge.
The bags are lined up on the beach. 53 TIWALs are ready for the assembly challenge.The designer and co-founder of TIWAL Marion Excoffon, starts the clock. They're off! Double and single-handed, 85 people get down to work: opening bags, inflating the hulls, assembling and setting the sails. 6 minutes 28, Mélanie and Grégory beat the double-handed assembly world record. 10 minutes 41 single-handed for Gilles.
The 53 boats set off for a morning of quiet navigation between the islands in the Golfe du Morbihan in almost no wind. During a friendly, sun-filled lunch on the island of Arz, Vincent gives the start for the TIWAL Kid's Cup: "For this 4th edition, we wanted to include the children more and offer them their mini competition." This is a serious business for the 10 to 16-year-olds. Following the victory of Marine and Salomé, the wind picks up and the TIWAL Cup gets underway again in sportier conditions. "We had a slight wind in the morning, but conditions in the afternoon were a little sportier. With all of its islands and currents, the Gulf is a very interesting venue and a wonderful stretch of water!"comments Mélinda from New Zealand.
On returning to the port, the TIWALs are packed up and loaded into car boots. The day ends with a prize-giving ceremony and drinks, an opportunity to discuss the day's sailing.
July 19th, 2017
We never have really thought about how to win a Super yacht Regatta…
Talking about racing sailboats starts a competitive debate around here. On one hand, we're still the boat-nerds dreaming of deconstructing a Vendee Globe or America's Cup racing rule to unlock the hidden speed secrets that take the silver home. All designers dream of sailing glory. But on the other, experience has taught us that real raceboats are a bummer. The dumb things go out of date before they're even built. And the boat you wind up having to sail is a beast: Rough. Wet. Dangerous. And that's assuming you know how to sail fast. Most of us live through the nautical murder of slowly slogging along, crawling along in a boat meant to go fast. It's a killer.
The lovely Bequia won big at the 2017 America's Cup Superyacht Regatta in Bermuda.
Instead, time has taught us to stick to our wholesome Spirit-of-Tradition naval knitting. We seek to design boats that are comfortable, look fabulous, yet still flash plenty of speed for fun and safety. And if you win your Wednesday night 'round-the-can races with your buddies, all the better. That's racing Stephens-Waring style.
Thing is, in our world sometimes this sort of racing among friends turns into serious competition among seriously competitive sailors. And earlier this summer, one of our favorite 90-foot yawls, Bequia, shaped up for the America's Cup Superyacht Regatta 2017 in Bermuda, skippered by no less than Tom Whidden, president and CEO of North Technology Group, in Milford CT; where he manages the core North Sails brand, as well as companies like Southern Spars, North Apparel and EdgeWater Boats. Tom gets going fast in sailboats. He's actually won a real America's Cup, back in the day. And he's one of the few sailors that legends like Dennis Connor actually listen to out on the race course. Whidden helmed Bequia to a win in her class, and within just a point or two of taking the honors for the entire regatta.
July 19th, 2017
Big Pimpin'
Summer is for sailing and enjoying life. We would like to remind you that you can spend your Seascape summer/autumn vacations in FreeSpirit Sailing Center, based in Croatia and surrounded by a beautiful archipelago of islands and crystal clear sea. Free Spirit is the right place for all of you who might need a hand with assembling the boat, and or in case you need some lessons. They have an excellent sailing school program.
Their Basic and Advanced sailing courses are just perfect if you wish to learn or upgrade your sailing knowledge. The classes are structured, starting with the morning theory and practise on Seascapes later on.
If you have a family and wish your kids and wife/husband would fall in love with sailing, you can join a Family sailing course, where each family member gets the knowledge he needs and some quality time together.
For more adventures types of sailors, they organise Chasing Kornati adventure. A sailing week where you will explore nature and authentic spots in National Park Kornati.
July 19th, 2017
A scary little shaft near the Chesapeake Bay Bridge during a nice Saturday sail.  Tip 'o the hat to Spinsheet.
July 19th, 2017
Delta pilot Mark Wheeler is the luckiest man in the world this week, and thankfully, he's sharing the info in the hopes that others have an easier time when they go in the water.  The Delta pilot (presumably with far more training in survival than the typical sailor) and crew of Farr 400 Meridian X gave his account of his rescue on Sunday morning after falling overboard during the windy CYC Mackinac Race.  One note: The crew of this boat is exceptionally experienced, and has raced thousands of miles together – many of it in boisterous conditions.  Another reminder that it really can happen to any of us at any time.  The discussion's already going over here.
The wind forecast was for a cold front to come through in the middle of the first night with a fairly sudden shift from SW to N. We raced under spinnaker on the lifting starboard tack from the start and then gybed to the heading port tack.This brought us to our target position in the middle of Lake Michigan and about 100 nm up from the start. The wind direction was 220 at about 15 kts. There was one thunderstorm to the west that did not seem to be moving. The front was still to the NW and an hour or so away.
At about 23:30, the wind began to build rapidly to 30 knots with no change in direction, and then very soon to 40 knots. I had gone off watch at 23:00. An all hands on deck call was made to get the staysail and A2 down.  I scrambled on deck with my inflatable life jacket and harness on, but not buckled. As I got back behind the wheels, I reached out for the port running back winch.  Just before my hand made contact with the winch the helm was put over hard to starboard to go down with the ever increasing wind. I went over the side head first through the life lines above the winch. I was only able to grab a spinnaker sheet for a couple of seconds as the boat was going approximately 18 knots.
I had my inflatable life vest set up for manual operation because of all the unwanted auto inflates I had seen on deck in wet races. My first order of business was to pull the lanyard to inflate the vest. The water was really rough at this point and breathing was a challenge. The vest inflated properly which was a relief, but since I had not buckled the front fitting I had to hold the lobes together with my arms to stay afloat. I knew it would be a while before my teammates could return to look for me since they were travelling away so fast and would not be able to turn without dropping the chute. In fact, afterwards we estimated the boat ended up more than 1.5 miles from me.
With the wind blowing 40 knots, I was in survival mode and concentrating on remaining calm and trying to breathe without ingesting too much water. I retrieved my brand new safety light from the PFD and held it up. The crew saw it for a while but lost it in the distance. Right from the beginning the light did not want to stay on bright and steady. I kept banging the side of it to get it to come back on. After a while the wind died down to the 12 to 14 knot range, but my light went out and no longer worked. I tried several times to get my harness buckled in front of me but could not do it with my life jacket inflated. At that point I inventoried my gear. Besides my failed light, I had a whistle, my AIS transmitter and my safety knife.  AIS was not mandatory for this race and we did not have it on Meridian X. My transmitter would have to be picked up by another boat or the USCG if someone with AIS was within a couple of miles of me. The thunderstorm to the west gave me a reference so I knew where north and Meridian X was. The next 15 minutes were discouraging to say the least. I was floating in the middle of a pitch black, moonless Lake Michigan with no light at 12:15 AM, and with no boats in sight. After about 30 minutes I could see Meridian's white mast light off in the distance, but clearly a long way from me.
The weather forecast was for big wind out of the north once the front showed up and I was starting to get extremely cold. I blew my whistle every minute or so during this time. The next time I rotated to the north, instead of a distant light I saw a green glow of the masthead tricolor and it was significantly closer. I started whaling on the whistle. Occasionally water would get into it and the whistle would not work, but when I had clear blasts it was very loud and fortunately carried a long way. Meridian heard the whistle. Later they told me they would motor and then stop to get the boat quiet, listen, and go towards the sound again. We think this process took about 15 minutes but it worked and I was found!
I was suffering from hypothermia when they dragged me aboard.  I had been in the water for 1 hour and 6 minutes. The crew got my wet clothes off, wrapped me in blankets and fleece, gave me some hot water and eventually I stopped shivering. We retired from the race and headed for Muskegon immediately after my retrieval, which was about 4 hours away.  Once I was warm it was clear I did not need medical attention.  I consider myself a very lucky man and I will forever be grateful to the crew and my good friends on Meridian X for being able to recover from the squall and get back to the same general area in which I was lost. It certainly was not an easy task.
July 19th, 2017
The latest edition to the FAST40+ Class is the Ker designed Signal 8. The boat no stranger to racing in European waters, having competed in the boat at Cowes Week and Cork Week in 2012. Signal 8 was shipped to the UK earlier this year and is undergoing final modifications by John Corby in Cowes, as directed by Ker Yacht Design.
The project to Jason Ker's designs and McConaghy's build, changed the keel to a lighter deeper one last summer, and extended the bowsprit to allow bigger kites. They also increased the mainsail girths about as far as they could practically go. That made the boat quite a bit quicker, but never really got enough wind in Hong Kong to really light her up. She was shipped off to Genoa and then on to Southampton after a short spell at Yacht Club Italiano, thanks to Eddie Warden Owen and Chico Isenburg.
They pulled the trigger on the final mods we had already discussed with Jason Ker: a transom scoop and a rocker reduction. Can Ergun and his guys at CSC Composites in Turkey made the main pieces, and John Corby did the building in Cowes in his usual awesome way. Andy Pilcher and Richard Bouzaid at Doyle Sails NZ have made us some big new jibs to go with the other big gear they'd made, so they are basically as powered up as they can get.
July 18th, 2017
The Environment
Not to worry, Putin's Cockholster will forgive the fucking Russians….
The Permanent Court of Arbitration has ordered the Russian government to pay the Netherlands $6 million in damages for seizing a Dutch-flagged vessel in international waters. The panel had already ruled that Russia had violated UNCLOS when its agents boarded the ship without the permission of the flag state. Russia maintains that as the ship was within its EEZ, it was within its rights to act to defend its economic interests, even though the vessel was outside Russian territorial seas.
The vessel, the Greenpeace ship Arctic Sunrise, was involved in a protest in September 2013 in which activists attempted to climb onto Gazprom's Prirazlomnaya platform in the Pechora Sea, about 30 nm off the Arctic coast of Siberia. The confrontation escalated, and Russian federal security officers boarded the Sunrise, seized the vessel and arrested 30 members of her crew. The activists were held until November, and the vessel was detained until the following June. Greenpeace said that she showed signs of damage when she was returned.
The court awarded the Netherlands compensation of $5.5 million for wrongful arrest and material damage, plus an additional $740,000 for costs incurred by the Dutch government. Greenpeace told Reuters that it expects that the Dutch government will pass on any funds paid in connection with the judgement. Read on.
July 18th, 2017
A Great Lakes Videographer joined our crew to capture the essence of amateur racing crew and gave a great look into our team – Knee Deep!
July 18th, 2017
UPDATED at 5 p.m.: A 10-year-old boy was killed after he was struck by a boat propeller during a sailing lesson in the vicinity of Centerport Yacht Club on Tuesday afternoon, police say.
According to authorities, the boy was among three students participating in a sailing lesson when the boat was intentionally capsized as part of the lesson around 2:30 p.m. All boys were wearing life jackets during the exercise.
Two of the students remained on the boat while the 10-year-old boy was in the water during the exercise, police say. The instructor, who was in a Zodiac boat, which is an inflatable boat, pulled the boy from the water into his boat. The boy then fell out of the Zodiac and was struck by the boat's propeller, police say. – Read on.
July 18th, 2017
Very cool to see the new Black Jack is the old (relatively) 100′ Alfa Romeo. Photo thanks to Andrea Francolini.
July 18th, 2017