So you come round the top mark on Starboard, set a starboard pole and go for a hoist.
Watching out for the port tacker that is charging in with sheets slightly cracked, sail a little high to clear expecting him to avoid, at the last moment it becomes clear he is doing absolutely nothing to avoid you so you put your helm down but not quite enough and your spinnaker catches their spreaders.
Another long night in the protest room and sail loft ahead but we can fix it.
What rules were broken? Jump in the thread and tell us.
Title inspiration by one of the best series of football commercials ever. – ed
December 13th, 2017
Big Pimpin'
Bigger faster cats is where it's at right now for many designers and builders. But the challenge of persuading three or four luxury cabins to proceed steadily upwind at 15-16kt is not one to be underestimated
The growing popularity of fast luxury catamarans can be easily seen not only at boatshows, but increasingly in harbours and marinas around the world as more people recognise the high value these craft represent in speed, comfort and ease of handling. For designers and builders the challenge is to find the balance between these key features as well as what the market requires in terms of style, utility and cost.
Main picture: the use of curved C-foils on a boat of this size and type looks a little outlandish at first glance but in fact it marks a sensible step forward in the evolution of long-range large cats with strong performance pretensions. There is no desire to try to lift out with the HH48 but reducing 'virtual' displacement at speed will improve daily averages and also dampen down pitching on this innovative new 48-footer
In catamaran design the process is not simple, since there are so many variables to account for: weight and trim, for example, are critical to control, given the narrow hull shapes, and the sail plan must be generous enough for adequate power in light air yet with systems to allow quick and easy depowering when needed. Appendages must also be carefully designed to be effective in all sailing conditions, easily adjustable for performance and safety, and ideally allowing these large yachts to access the shallowest anchorages. Read on.
December 13th, 2017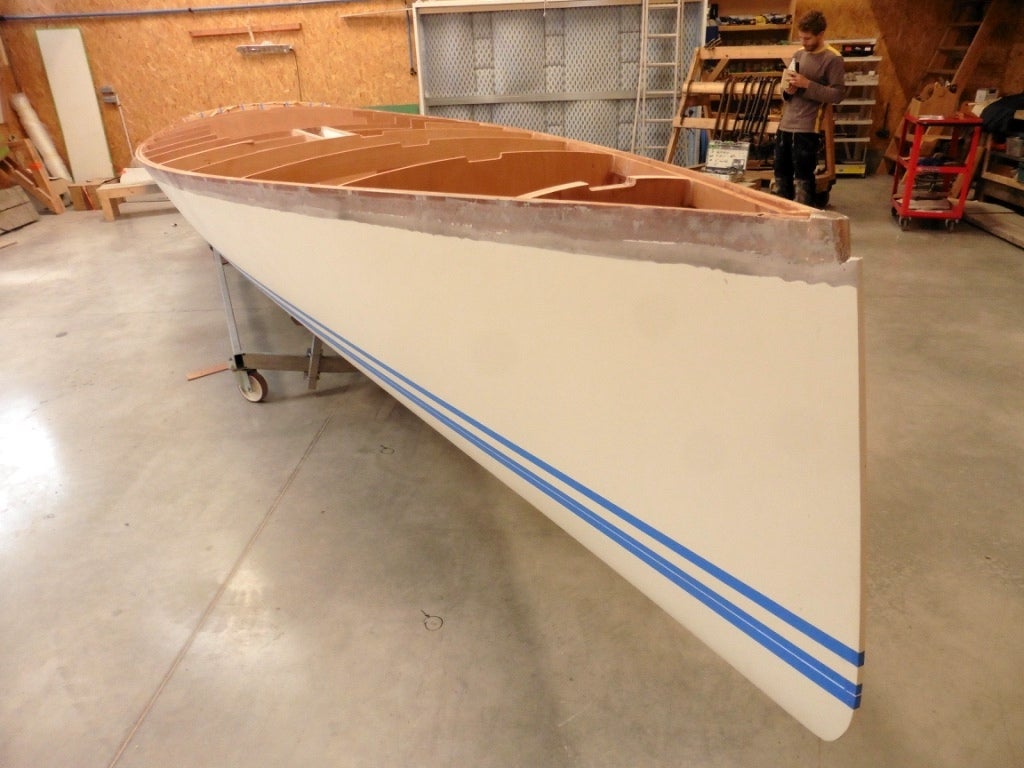 Maybe a powerboat tender? What?
December 12th, 2017
You may have noticed that I have not weighed in on the new monohull design for the next America's Cup. You may have seen it. The hull is pretty ordinary but it's the strange appendages that stick out each side to allow the boat to foil that has many people atwitter. Frankly I am not that impressed. I have always gone with the notion that pretty boats sail fast. Yes I know that's a tad simplistic but I believe it and over the years I think I have been right. This design is anything but pretty. It looks like some kind of space alien. Someone in the comments section on YouTube said it looked like a dog peeing. At the risk of challenging the design team, who I know are infinitely smarter than me, I am going to say that I don't think that this is going to work very well.
Let me explain. The biggest beef about the last America's Cup was that there were no passing lanes. The boats got up on their foils and banged the corner. Tacking was slow especially before they figured out how to keep the boat in the air through each tack. As soon as the boat dropped back into the water the speed dropped precipitously. People moaned that they missed the "old" days when monohulls would slam tack their way up the windward leg closely covering their opponent. Catch a good wind shift and you could break through. Man that was racing and I agree. That was racing. In the video that the AC technical team put out it showed an animation of two of the new designs doing just that. Short tacking up a windward leg. But to my mind that's never going to happen.
Maybe I am wrong but it seems to me that this design is going to have the same problem that the multihulls had. Tacking is slow and the boats are going to drop off their foils. I am guessing that it's going to take a 75-foot monohull much longer to get back on its foils than it did the AC45's. My bet is that their best option will be to bang a corner, stay on the foils for as long as possible, work on boat speed and hope that you have chosen the right corner.
Here's the other thing. Lead is slow. There is no getting around it. Add lead to a boat and it's going to slow it down. This design has lead in both foils. When sailing upwind the windward foil (full of lead) is there to counterbalance the pressure on the sails. The leeward foil is there for foiling but it too is full of lead. How quick do you think these boats are going to get back up on their sticks after a tack? Not very is my opinion.
The other consideration is cost. Bigger boats cost more. I am not a boat builder but  many boat builders have told me that the new monohull design will be more costly to build than the AC 45's. One area that I think is interesting and definitely cost saving, is that they are considering going back to soft sails. No more wing masts. Personally I loved the wing masts but there was a very serious cost involved to crane the mast into the boat in the morning and crane it back out in the evening. The boats are dry sailed. The masts had to come out.
To be honest I think that this design is not really a monohull. It's a trimaran in disguise. It's not unlike the concept that we put forward with SpeedDream a few years ago. SpeedDream was a catamaran disguised as a monohull.  The lead in the keel flying out of the water was there in place of the windward hull of a catamaran. This design is a trimaran. The boat is the main hull and the appendages are the two other hulls. Remember that a multihull only really starts to move fast when the windward hull(s) come out of the water. Until then they are like a monohull but only with a lot more drag.
One aspect of this concept that I do like is that much of the boats performance is being handed back to the crew. They are not there to pump hydraulics around. They are there to manage the sails and grind the grinders and judging by the video it's going to take a huge amount of skill to sail one of those boats especially to keep it up on it's foil.
I really don't want to be negative.  I love innovation and I really appreciate that a lot of time has gone into developing a creative new idea for the 36th America's Cup. I am not sure what else they could have done, but I do have one idea. They could have stayed with multihulls…:) – Brian Hancock
December 12th, 2017
Here is an e-mail blast we did not expect to see. Note also the reemergence of Peter Johnstone…
Waterline Systems has moved to a bright, modern space centrally located in North Kingstown, RI. Now in our 30th year, we are proud to continue our tradition of providing unparalleled race boat optimization, one-design repairs, and hard-to-find replacement parts of the highest quality.
We began as a service business 30 years ago in a small shop in Middletown. One-design sailing was thriving and we saw a need to keep the boats in top shape, giving keels and bottoms a slick finish, making repairs after racecourse mishaps, and supplying parts. And while we've had a few changes over the years we're still going strong. We are pleased to announce that, in addition to our service work, we will continue to build and support the Alerion Yachts brand under its new owner, Peter Johnstone.
At our core, we have always been a race-boat optimization and repair center and we remain committed to our mission of providing the highest quality service. Contact me today to schedule your next service project.
Randy Borges
December 12th, 2017
Two weeks ago in Sydney, a 40kt Squall hit the manly 16ft Skiff fleet and flattened nearly all of the 20+ fleet. The shot shows one of the boats being blown down the harbour on its own leaving the 3 crew to swim 200mtrs to get back on. – Michael Chittenden.
December 12th, 2017
Spotted at Woolwich Dock in Sydney, the super-maxi Comanche is sporting a new coach-house structure over its twin companionways.
Looking more like Darth Vader's helmet than a piece of boatbuilding, the whole thing appears to be removable. If so, then maybe it's for crew protection during long deliveries and comes off for races such as the Sydney-Hobart.
On the other hand, maybe Neville "Croaky" Crichton, who has chartered the boat for the Boxing Day race, just doesn't fancy getting wet! -Anarchist David.
December 12th, 2017
Well the Anarchy III finally nabbed a bullet, This in the CRA Year End Regatta sailed inside the bay. We sailed smart in the light and thanks to my awesome crew we pulled it out on the last leg. Good times were had! Photo thanks to Cynthia Sinclair. More shots here.
December 12th, 2017
A boat building party! Four new converts to Mini Skeetering, all from other landsailers and iceboats, friends I sail with regularly. John is hosting this woodfest in his cabinet shop in Lakeside, MT, and is eminently prepared, with frames cut and coated, stringers milled, and skins epoxied. As a result, we have Phil's boat ready to pop off the jig when he arrives from Portland, in a snow storm, the first of the season. Feels like winter, an impetus to build with purpose, ice is coming! Bill Eisenlohr and Tom Schock show up to contribute expertise and raw labor, having built three of these craft between them. So far.
Internal parts go in, deck stringers are wrestled into place, glued and clamped. Leave to harden, build a few cambered, laminated planks. Lunch at Perks, the Bozeman boys roll in, in a snow storm, still! They arrive fully stocked with precut parts, and we immediately throw frames on jigs and the mayhem commences! We now have five boats in various stages of construction, and as many as nine dusty and determined wood workers scurrying about, back and forth from the chop saw, tablesaw, and bandsaw, fitting the bits, slathering with epoxy and tacking 'em into place.
Another couple boats to dry overnight, we retire to John and Laura's warm and welcoming home for a magnificent barbecue, happy chatter, and an early retirement, as we're wasted, and tomorrow promises more scurrying.
Saturday morning sees us popping two more hulls off the jigs, and the fury continues. We have now discovered out strengths, and we're perfecting our assumed tasks, and the speed at which the boats come together accelerates, with each boat taking shape faster than the last. Jim drives down from Somers, another early adopter of this lovely design, and offers his insights. Scott works determinedly in his metal shop next door, fabricating the metal parts for runner chocks, mast base tubes, and steering components, some of which will be installed before the strip planks are applied to the decks. By evening, the last boat is off the jig, with all deck structure in place.
We're back at the Eisenlohr's for pizza, beer and TWO Montana college football games. Split, one win, one loss. And desserts! Laura is hostess extraordinaire! Again ready for horizontal at an early hour,
Last morning has the wood shavings flying, with power planers and belt sanders movin' material, shaping all the deck framing, sculpting those graceful bows. Phil exits to catch a plane, and by noon Dave, Pat and Lance's boats are loading into the trailer, and they blast back east, in a snow storm. Hope they made it!
There's something special about building your own boat, in the company of like minded fellows who share this strange passion, to sail on hard surfaces. Fast! That grin I'm so fond never left my face for four days, thanks boys! Ice approaches! – Anarchist Dave.
December 10th, 2017
It is with a heavy heart that I tell you Ian Farrier passed away in San Francisco on his way back from the USA yesterday. We are in deep shock as we come to terms with the huge loss of our captain, and our focus is on Ian's immediate family and the Farrier Marine team.
Ian was a visionary, a multihull genius, an all-round nice guy who leaves behind a huge legacy to the sailing world.
Farrier Marine Limited is a strong business with a three year order book for the revolutionary F-22 sailboat. Despite dealing with our grief, it is very much 'business as usual' at the factory today. It is our job now to carry on the Farrier legacy and ensure his vision is carried out. – Rob Densem.

December 10th, 2017