Italian cat sailor Vittorio Malingri long ago proved himself a certified nutter, setting the singlehanded beach cat record for the Senegal to Guadeloupe transatlantic route back in 2008 at around 13 days.  It's the same route that certified French nutters Benoit Lequin and Pierre-Yves Moreau did in 11 1/2 days on their beach cat, and for Vittorio, beating their doublehanded time was a challenge he decided to take on with family.
The duo of Nico and Vittorio smashed the record on Saturday, taking more than ten hours off the Frenchies record at an average of just under 10 knots.  Sick stuff, and check out the team's Facebook page for more photos, videos, and stories (in italian) about their effort. Bravo Ragazzi!
Title shout to fathers and sons everywhere who do cool shit together, and thanks to SA'er "M26″ for the tip.
April 24th, 2017
As expected, in any breeze at all, the Bermuda America's Cup will be sailed entirely above the water if Emirates Team New Zealand's most recent practice is any indication.  Watch the 11:30 mark of this video from AC junkie MyIslandHomeBermuda for an incredible sequence of foiling tack/foiling rounding/foiling gybe and note the stability on the Kiwi AC50; is ETNZ once again too stable for speed, or do they finally have it right?
April 24th, 2017
The multiple-fatality wreck of the Dipiu we told you about last week was hauled off the Rimini jetty over the weekend as documented by Manual Migliorini from Il Resto Di Carlino here. The Italian Coast Guard is now focusing on engine issues as the primary cause of the wreck.  One source told us the on-deck crew was actually washed off the boat in a breaking wave that also flooded the boat and shut down the engine, and the only crew to make it out alive were those stuck inside the boat when she was thrown onto the rocks.  We're also told one sailor tried to rescue his girlfriend, whose foot was stuck between two rocks on the jetty…they both drowned.  All in all, a horrible story that could have been entirely prevented by listening or reading one of dozens of forecasts and warnings available to everyone in the area for days.  One Anarchist says undue respect for a senseless tragedy doesn't do anyone any favors.  "Skol" writes in the thread:
My condolences to the families that are affected.  Given the comments in the forum, I feel somebody should speak up.  Terrorism is a tragedy. Gun violence is a tragedy.  This particular accident was caused by a suicidal, murderous asshole. The skipper paid the price? And what about his son-in-law or his grandchildren, or his (ex) wife?  What are they paying – respects? Bullshit.
The conversation here should be about the living and keeping them that way if facing similar conditions.  If that's done in acerbic and unpleasant terms, well tough shit. It's not a disrespect for the dead. It's a wakeup call to the people who potentially don't take their safety and their crew's safety seriously enough.  You know there was probably words of respect and moderation on board that boat before 4 people lost their lives, when what there should have been was a fucking mutiny.
So – how many of us have been out on a daysailing on a 30~40 foot pleasure yacht without adequate storm gear?  I'm guessing that's most of us. Putting aside the boneheaded choices that got them (or you) out there in the first place, what would you have done? 
[  ] not enough sea room for a sea-anchor, even if they had one 
[  ] not enough sea room to run downwind.  NE gale was perpendicular to the coast 
[  ] attempt to heave to (… on a fin keel boat close to lee shore, not the wisest option)   
[A] motorsail to windward under reefed main, sliver of furled jib, or any combo thereof. 
[B] attempt a broad reach parallel to the coast under reefed main 
[C] combo of a & b to maintain searoom until reasonable window for port entry 
Running for port just isn't on the damned list. Running for port under power without a scrap of sail up is doubly not on the goddamned list. If they left port with a damaged rig while under storm warning in the forecast, I'm sorry, but it was a suicide run from the beginning. It really makes my blood boil.  So again – for the sake of the living, please note!:
NO SAIL and NO MOTOR is NO CONTROL.  Add that recipe to a lee shore and you're finished.  
A sailboat auxiliary engine is just that: auxiliary.  Trust it only at GRAVE and MORTAL fucking peril! 
And finally, if the skipper is on a suicide mission, speak the fuck up. I don't care if it is your daddy, I don't care if it's your daddy's best friends. For fuck's sake say something. 
April 24th, 2017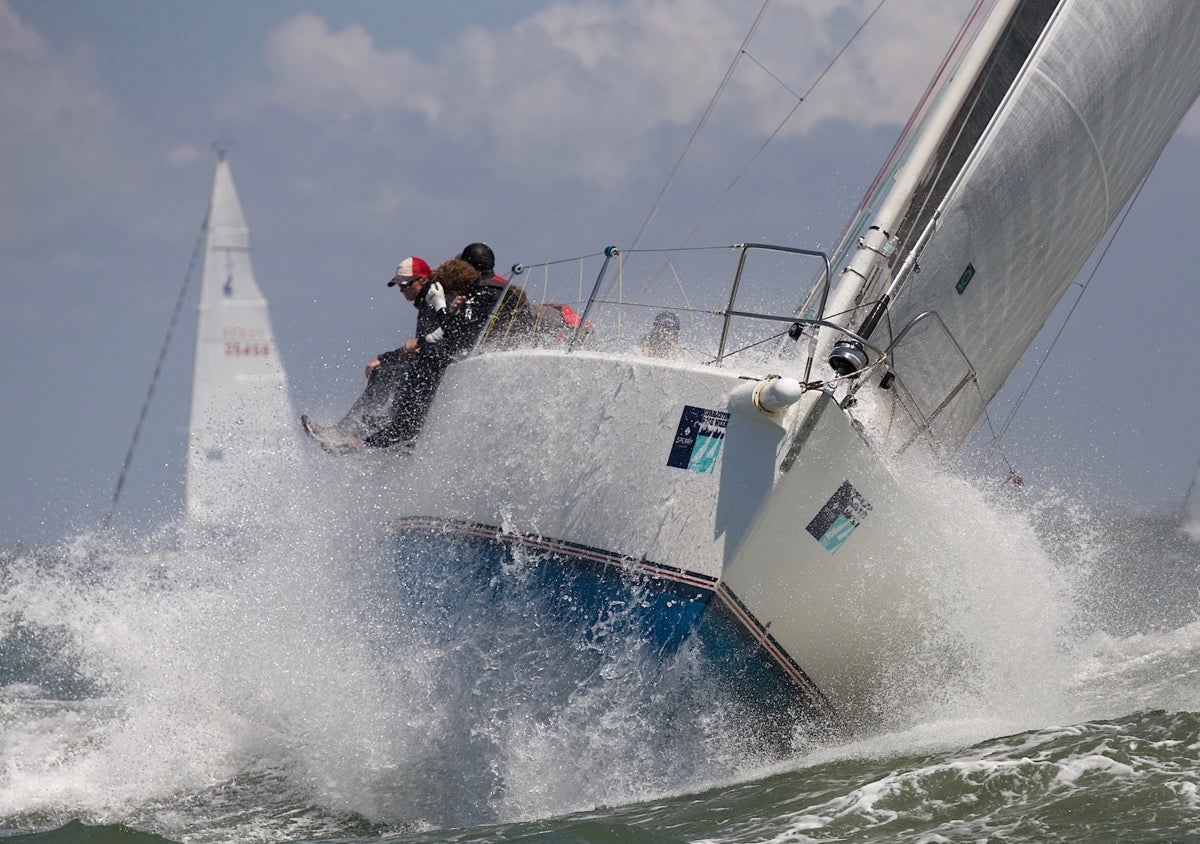 After several years with lost days and poor racing offshore, the 22nd edition of Charleston Race Week delivered 3 days of full-on racing, with moderate to big air inshore and big wind and seas outside the harbor for 212 boats at the biggest event on the calendar for many teams.  After losing around 30 boats for both 2017 and 2016, organizers are doing what others often haven't – they listened to their critics and moved things around significantly, and the 2017 event seems to have rewarded their moves.
The first move was working with the Coast Guard and Port to add a fourth circle in a harbor that many used to think couldn't even fit two, and the result was not only sailable, but it showed that there's easily room for another new fleet or two.  Stars and Lightnings are both perfect candidates, and both fleets are looking for some new venues, so we expect next year to begin growing once again.  They also moved the smaller handicap racing fleets – now all sailed under ORC – inside the harbor, and every team we spoke to will be back now that they don't have to face the long slog offshore in little boats.
As usual, Charleston reminded us that it's the only regatta party we know of with more women than men, and the diversity on the water was just as good; boats fully crewed by women, fully crewed by kids, and fully crewed by military vets and wounded warriors were all over the place, with some even winning their classes despite their bow guy/main trimmer being blind.
The overall winner was reigning J/70 World Champ Joel Ronning, who dodged a last-day protest to hang on in the biggest fleet at the event.  They almost lost it all though, when the forestay let go just before the final race.  Listen to the full story from Catapult trimmer and longtime SA fan Patrick Wilson here.
Clean and the media team posted stories, interviews, hundreds of photos and hours of video on the CRW Facebook Page here.  Full results here.  Meredith Block photo of the J/120 Illyria.
April 24th, 2017
After several years of losing multiple days of racing from the usually reliable Charleston Race Week schedule, the 2017 regatta is more of what Charleston became famous for: 80 degree days and 12-18 knots of sea breeze for the 200+ boat fleet.  It's also the first regatta in America to feature ORC for all handicap racing – an experiment that we'll be reporting on after the data are in.
Results, photos, and constant video updates from our own Mr. Clean are over here.
April 22nd, 2017
The latest from one of the greatest – Webb Chiles
Rodney Bay, St. Lucia
The Moore 24 Southern Hemisphere Fleet went out of existence at 12:35 p.m. on April 1 when GANNET crossed the Equator and returned to the weirder hemisphere after an almost three year absence.  This was GANNET's second time across the Equator and my fifteenth.
The day's runs on the passage from St. Helena to St. Lucia add up to 3859 miles, the second longest passage GANNET has made.  In the little over two months since we sailed from Durban, the little boat has crossed another ocean and covered 6423 miles.
Even more pleasing because it wasn't planned, but serendipitous, is that we have sailed more than half the world from Darwin, Australia to St. Lucia with only two stops:  Durban and St. Helena.  Anchored at Darwin, Australia at 130º49'E, we are now at 60º57'W.  That is more than 191º of longitude.  We have also swung from 12ºS latitude to 35ºS, then up to 14ºN.  Daily runs from Darwin to St. Lucia total 12,337 miles, and miles since leaving San Diego 22,016.  Not bad for a little boat intended to day race around buoys.
Much of the passage was slow and dry.  More than usual I was able to stand in the companionway, sit on deck and sail with the forward hatch open.  However, we were seriously slowed by the doldrums where we had by far GANNET's slowest week ever of 458 miles.  Her previous slowest was 678.
While I often used sheet to tiller steering, the Pelagic tiller pilot steered through some severe conditions, including torrential rain one morning that felt as though we were sailing under a waterfall.  I still use the remaining Raymarine at times because it is quieter than the Pelagic, but the Pelagic has steered perfectly though weather that would have killed a Raymarine.  I am very impressed.
I am pleased with the spray hood fitted in Durban.  It succeeded in keeping some water out of the boat and unexpectedly also was useful as a sun screen and wind scoop.
An expensive fiasco came when the shackle let go at the tack of the G2 when I went to furl it.  This was my fault for not seizing the shackle, which I routinely do but obviously didn't in this case.  The sail, still connected at the head and by sheets, streamed horizontally ahead of us.  I managed to get it down and back on board without dumping it in the sea, but not before one of the sheets caught around the Velocitek, playfully plucked it from its mast bracket and tossed it overboard.
There was other damage.  The two remaining Aurinco solar panels died, bringing their failure rate to a perfect 9 for 9.  The two Solbian panels provided enough charge with judicious use of sheet to tiller steering.
The Raymarine masthead wind unit stopped sending wind speed after being immersed in a masthead in the water knockdown on the passage from Durban to St. Helena.  It is still sending wind angle, particularly useful with sheet to tiller.
And yesterday the Torqeedo battery died and I had to be towed into the marina.  Normally I would have anchored outside, but I want to be in the marina because Carol is flying here for a week.
The battery was showing 99% charge when I started to power in.  Then a few minutes later 4% and it died.  These batteries are hazardous material and can't be taken on airplanes, so I may be engineless until I reach Florida, not a problem once I get clear of the marina slip.
The plan is to sail from here to Florida after Carol's visit, possibly stopping in the Virgin Islands.  In Florida I'll lay the little boat up and return to the flatlands for a while.  Time and chance permitting, I'll sail from Florida to Panama and then to San Diego to complete the voyage next spring.
I have many character defects, a known one is that when I get close to the bottom of a bottle I think I might just as well finish it, only to discover that after I've poured, there is twice as much as a usual drink in the glass.  Thus, last evening with the end of passage Laphroaig.  Careful experimentation has proven that trying to pour from the glass back into the bottle results in shameful wastage.  Once poured, there is only one reasonable course, which I followed.
Four weeks before I reached St. Lucia, the JetBoil stove failed because the gas canister connection threads stripped.  The connection is aluminum.  Threading on a canister on land is easy.  Sometimes on a lively boat it isn't.  In any event, I couldn't use the stove.  Carol is bringing a new one out to me.  I had a back up stove of a different make but hadn't looked at it for years.  It was corroded and unusable, too, so for quite some time I have been drinking air temperature instant coffee and eating uncooked freeze dry food soaked in air temperature water.  I've done this before.  Some is better than others.  Some that is good heated is terrible unheated.  Fresh, cooked food upon my arrival was even more appreciated than usual.
April 21st, 2017
Nobody discounts anything if it is in demand. Yet, the America's Cup is offering their grandstand tickets at half price for one day only.
Might people be getting a whiff that this dog and pony show ain't gonna be quite what the promoters say it is? After all, when they falsely state that the AC 50′ cats (a mere 5′ longer than the almost boring 45′ 'training cats) are "the fastest boats in America's Cup history",  the bullshit detectors start to go on alert.
We're pretty sure it will all be very underwhelming and not unlike anything you can see in a number of multihull events like the so-called Extreme Series, or the GC 32′s, etc. Hopefully it will be full of NASCAR action like close racing and crashes and breakdowns and angry hillbillies – wait, cancel that last one.
Although it remains to be seen, we expect the closing sentiment will be "that was the America's Cup?
April 21st, 2017
This is what happens when you name your boat "Poopy Express".
April 21st, 2017
Bummed out that you can't make it to Bermuda for the America's Cup? Disappointed that you won't be paying exorbitant prices on everything from airfare to hotel to meals and drinks? (well, everything except AC grandstand tickets)
Not to worry, bro. You can get your fill of the arrogance, disconnect and overpriced experiences, thanks to Louis Vuitton! Holdovers from the America's Cup days of yore, LV offers some of the most hideous, insanely priced "America's Cup" apparel ever!
We present you with today's offering – this will be a weekly exercise – the LV Fastlane Sneakers.  Ugly as any shoe ever created, these are sure to disappoint on every level, except one: How much they cost.
Wow your friends when you roll up in your $850 dollar LV kicks, yo! Mothafuckas be like "Damn son, where you get them ugly mothafuckas, KMart"? You be like, "Shit fool, these here is some bad ass Louis Viton's, boy!" If you do that, be prepared to get your ass kicked.
Title inspiration here.
April 21st, 2017
So will everything soon by foiling?
April 20th, 2017