The monthly World Sailing show may be a relic from another era, but occasionally they stumble upon great stories. Never mind that America's Cup and VOR video producer Sunset + Vine didn't bother to use actual Olympic video, instead relying on still images and grainy camera phone for this piece; the story of Santi Lange's gold medal performance in Rio is perhaps the most compelling in Rio 2016. Over 50 years old and sailing aboard the quickest Olympic boat of all, Santi took an unlikely gold just months after losing part of his lung to cancer.  Lange is one of the kindest and most generous people in all the sport, and his story should inspire all of us.
To read a deeper piece about Lange's accomplishment, check out the NBC site here.
September 27th, 2016
While we're grateful to have support of awesome sponsors throughout the sport, we're even more grateful when they have real news instead of just press releases!  Just six months after launch, the first in a new line of Morrelli & Melvin designed, high-performance carbon cruising cats proved her racing prowess, with HH-6601 R-Six winning her first regatta! The six-boat fleet gathered at Port Adriano last week for the inaugural Multihull Cup – a new event designed to provide a fun and competitive regatta platform for 50′ and over performance cruising multis. Other participants included three M&M designed Gunboat 66s: Slim, Coco de Mer, and Outnumbered; the Nigel Irens' custom 78' Allegra and a 60′ Bañuls' MC2 Dragon.
Harry Dunning was named the official rating authority by the Multihull Cup organizers; his complex and impartial rating system takes into account weight, waterline and sail area measurements as well as daggerboard and rudder dimensions. The system sees further adjustment each day based on wind conditions and course length as determined by the race committee.
Racing took place over three gorgeous days, with one race sailed each day. Mostly sunny skies, decent sized wind swell and variable breeze set the tone for an exciting weekend of racing. R-SIX performed strongly each day, finishing third on day one, 12min 34sec behind Allegra and 1min 12sec behind SLIM, third on day two 7min 42sec behind Allegra and 52 sec behind Coco de Mer, and ending the regatta in dominating fashion on day three, taking line honors and finishing 49 sec ahead of Allegra and 5min 55sec ahead of both SLIM and Coco de Mer, who finished within one second of each other. On corrected time, R-SIX placed 1st on day one, 2nd on day two, and 1st on day three.
Aboard were the core crew; the owner and his two permanent crew who've been with the boat since it's arrival in Valencia in June. Four additional crew rounded out the team, including co-designer Gino Morrelli and longtime Anarchist and HH commissioning skipper Chris Bailet. The crew felt their performance throughout the regatta was strong, save for a few tactical and execution errors. Gino surmised that the crew work and tactical calls improved each day, and explained that on day three they seemed to have "found a new gear" and really sailed to their full potential.
The boat itself proved solid, sustaining fewer and less severe breakages than other boats in the fleet. A chafe issue with the Antal line driver on the starboard daggerboard left the board fixed down for much of the race on both day one and day two. Big thanks are owed to rigger Scott, who sailed the regatta as crew on Allegra but worked overtime in the evenings to help address the board issue. Damage reports from the other competitors included a busted hydraulic hose on Allegra, breakages to multiple sails on SLIM, and a busted main halyard on Dragon, among others.
A first place finish amongst a strong fleet of boats that are optimized for performance and well sailed is an obvious testament to the design and build of the HH66. To read Gino's full race report from each day, head on over to the HH website here, and if you'd like to join in on the mostly uninformed and typically combative banter regarding the event, hit up the Multihull Cup thread in the SA Forums here.

Jesus Renedo photos.
September 27th, 2016
Fresh off the worst 18 months in ISAF/World Sailing management history, sailing's governing body continues to search aimlessly for the slightest clue on how to fix its fundamental problems, but it's hard to have confidence in a body that is likely in November to re-elect the same transparency-challenged, conflict-of-interest-laden Italian who engineered perhaps the worst responses possible to the Rio mess, the Malaysia anti-semitism debacle, and the America's Cup. 
Yep – you heard is right.  Carlo Croce is somehow running for President again, and to guarantee his win, he's hired the same multi-million-dollar PR and lobbying firm working to get Paris the 2024 Olympics and pushing for another Italian to take over FIFA.  Croce apparently believes he will be remembered not for feces and body parts on the race course in Rio or for Jewish sailors having to hide their nationality at an ISAF Youth World Championship, but for the wild success of the newly reimagined Sailing World Cup.  You know – that regatta that literally a few thousand people in the entire world pay attention to for 3 years out of every four?  Yeah, that's the one.  As the only regatta that ISAF World Sailing actually owns, management has decided it's time to try to build some revenue out of it…and the result is a little bizarre.
One of the oldest sailors to ever win an Olympic medal – and an Italian guy who builds Olympic boats, coaches sailors at the highest level, and knows Croce well – weighs in on the new plans for the new Sailing World Cup.  Read it and then let the folks at your MNA know you want them to vote for this guy instead.  Now, to Luca:
Looks like World Sailing, completely overwhelmed by the Rio Olympics has lost contact with the sport's reality. This Sailing World Cup needs to be completely rewritten. Andy Hunt, if you really don't how to come up with something better than this, please feel free to contact us, we will help you.
Sailing needs events, we need to race and we need to know where, when and what to sail. Maybe World Sailing CEO Andy Hunt, doesn't know the big rule of communication…
One of our Dinghy Academy sailors commented: "And… by the way… we can't tell you exactly when and where the Sailing World Cup events will be. We will continue to impose drastic fleet size quotas (because that worked really well this last quad…), and we won't tell you if your class will be in Tokyo until sometime next spring… But show up anyway, guys… And if you are a sailing venue, go ahead and bid for the privilege…".
What is wrong in this proposed "non World Cup"? First of all, majority of sailors are not loaded with money, so very few of them, in reality not even one, will committ and take part in all the requested events. They simply do not have the budget.
Our Comment: "We need more events and discards and a grand final. Aussie plus some sailing in Melbourne. Canadian plus some sailing CORK in Kingston, American and even more than some in Miami, and the usual european circuit: Palma, Hyeres, Medemblick, Kiel and Garda, with max four counters for example. No limited entry, open and happy, sailing is our passion, sharing a drink with the mates, discussing the races a pleasure second to none. Sailing is a social sport".
September 27th, 2016
Dave and Steve Clark's UFO foiler is moving incredibly fast, the unique catamaran already finding a reputable US-based production shop and deposits already starting to flow.  Meanwhile, with the Clark's opting not to produce a bespoke trailer for the 90-pound boat, the biggest question on anyone's mind turns out to be 'how do I transport this thing?"
Project manager Dave Clark took the time to actually answer the question in an extremely comprehensive form that applies to any small dinghy looking for wheels, but papa Steve isn't known for his patience, and he penned our 'answer of the week' in the thread.
It just hovers there. You pull it behind the car with a light piece of string tied to the mast step.
We were considering powerful magnets as the coupling device because it was much cooler than the bit of string, but a passing semi truck ripped the boat out of our magnetic field and the boat floated into an underpass where it attached itself to the steel I beams.
 
Turned into a hell of a mess, we had to stop traffic in both directions while Dave tried to lasso the rudder gantry with a bit of Rooster Braid (which sucks as a lariat).  Traffic ended up backed up for a few miles and the cops weren't amused. Particularly when we mentioned Alien Technology. They called Homeland Security, and because it was a first reporting of a new kind of threat, we had to go down to the station and answer questions for 48 hours while they played Donny and Marie songs at us.
 
Didn't think something as simple as move a boat would get so complex.  Maybe if we had just tied it down to something with wheels like thousands have done in the past…
 
SHC
September 26th, 2016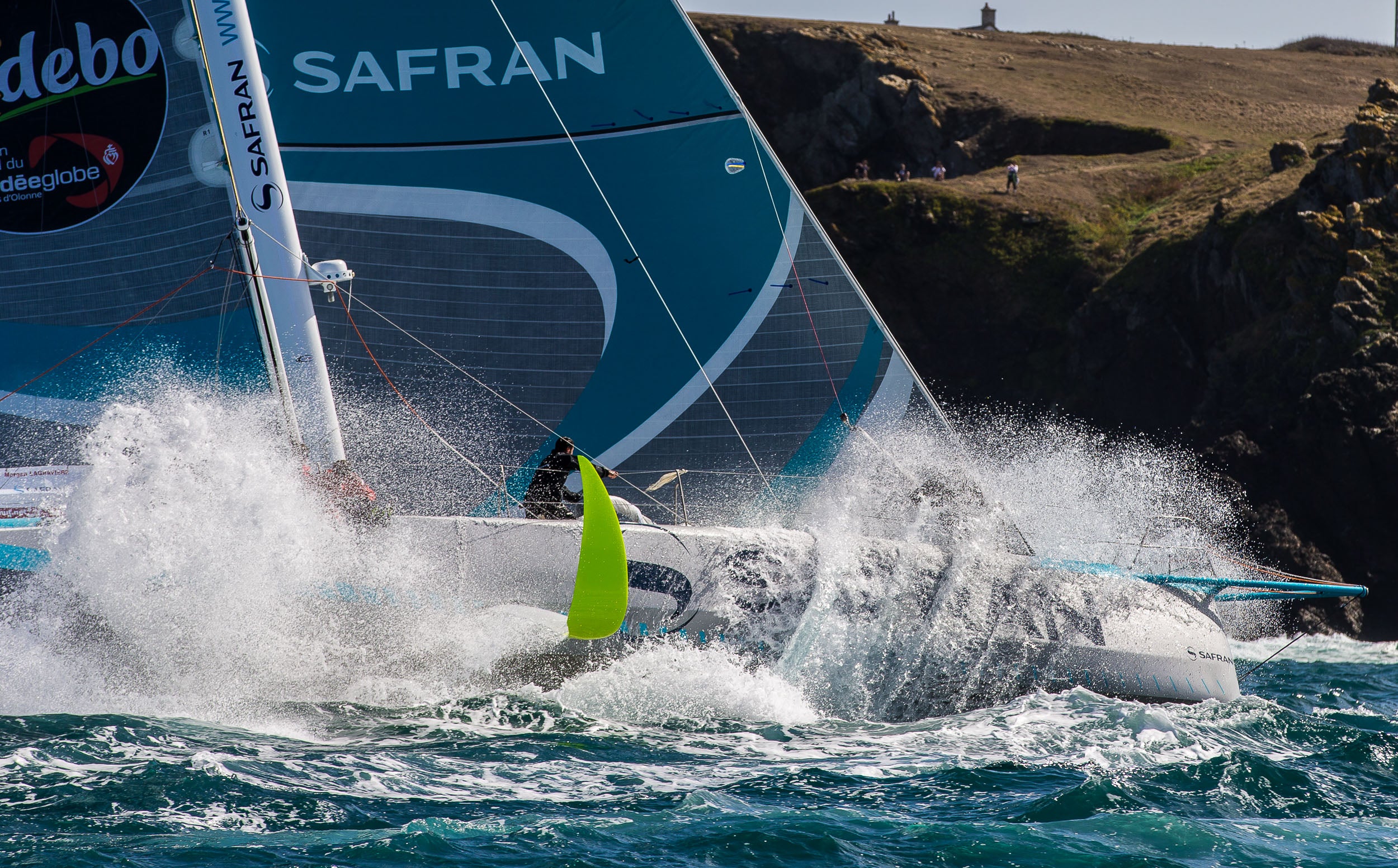 There's never been anything quite like the latest generation of Open 60s, and in just a couple of months, we'll learn how they perform in anger when the Vendee Globe kicks off.  We haven't been this excited by a monohull class in years, and we recommend you take some time to catch up with the latest; here's the Ocean Racing Anarchy forum thread, full of info.  Here's the most reliable Facebook Page under the Vendee umbrella.  Here's the latest promo/trailer video for the race, and here's a pretty good Conrad Colman documentary from the NY-Vendee Race. Brian Carlin photo, with more from this past weekend's Azimut Race here.
September 26th, 2016
A little pimpin' from our friends at Southern Spars.
September 24th, 2016
We've made it to Miami! After hunkering down through hurricane Hermine in Savannah, we pushed south through a maze of inlets and waterways along the Georgia coast towards Florida. Strong tides and light winds brought a lot of Mirage drive peddling or "miraging" as we call it, but as we crossed into Florida the conditions improved and we were able to sail most of the time.
Overall the boats held up amazingly well. The only issues we had were a broken seat, the result of some overzealous attempts to surf the canoes (see video!) and a broken mizzen mast courtesy of a navigation piling that we snagged. Luckily the entire team is now well versed in woodworking and fiberglass repair, so we were able to get it all back up and running quickly.
A huge thanks to everybody for following this crazy adventure, for their supportive comments on the videos and social posts, and for being amped up about boat building! Through this experience we fell in love with wooden boat building and hope that this project is proof that anybody…ANYBODY can build their own craft, especially when using a CLC kit! Yesterday we got word that the Expedition Canoes WILL become a kit you can build yourself, so if this design strikes your fancy, get in touch with the masters themselves at clcboats.com and get after it! – Team Waterlust.
September 23rd, 2016
We thought we were going to be focusing on the Etchells Worlds IJ granting the Event Chairman redress for two different UFD scores, but as we were writing that one up, something way better came up for our monthly look at protests and sailors behaving badly.  And it's a hell of a story.
Julian Fernandez Neckelmann dominated the J/70 Worlds last year with his Flojito and has continued in other big events, and with two of the winningest one-design pros of the past decade as his crew and Ed Adams coaching, Julian ain't playin' – he's in this one for real. But after six races at St. Franny's Big Boat Series, a much lower-budget team – Joel Ronning's Catapult - sat tied with Neckelmann in the same water they'll be racing next week at Worlds.
That's when Neckelmann – a lawyer, we think – decided he needed to find out more about the stainless hoop you see above in Ronning's cockpit.  We were told by several people he asked them about it, and several told him they thought it was legal, and even suggested against protesting it.  When Neckelmann saw Catapult tactician John Kostecki on the dock, Neckelmann told him he didn't think the roll bar was kosher, and Kostecki, ever the communicator, said 'Protest me."  Neckelmann did exactly that, and that's where it gets good.
The Jury asked why Catapult had a non-OEM part on the boat, and Joel calmly explained that bar was installed to assist him from moving from side to side during tacks and gybes.  He also explained that the J/70 rules allow installation of such a device for people with physical disabilities, and that both the plans and photos of the finished part had been signed off by the J/70 Technical Committee and Adminstrator as required by the Class Rules.
At this point, our sources differ on what exactly happened, but a credible one has Neckelmann next asking Ronning, "How disabled are you that you need this bar?"
Ronning then reaches down, unstraps a buckle, pulls his carbon-fiber prosthetic leg off, and slams it on the table in front of god and everyone, shouting "Is this disabled enough for you?"
A differing account says Neckelmann asked why he wasn't allowed to have the same bar installed on his boat.   Ronning pulled off the leg and slammed it on the table, telling Neckelmann to "Saw off one of your legs and you've got it."
Regardless of which version is true, the whole thing is pretty ridiculous, and sends an awful message to disabled sailors in open classes: Fuck you and your problem.  We certainly know the history that makes top J/70 teams so nervous about cheaters, but handling a protest poorly risks not only pissing off your fleet, but it can earn you new enemies you can't afford on the course.
We note that Neckelmann has always been a straight talker with us, and was always ethical when we've spectated or raced against him.  He told us in an email that he never knew Ronning had any disability until that protest hearing, let alone a carbon-fiber leg; this isn't that far-fetched given that Ronning is proud of the fact that so few people can tell he has an artificial leg.   Still, we struggle with it, because Neckelmann poached his pros director from the Catapult team.  Bill Hardesty and Willem Van Waay both worked for Ronning on his A-Scow and J/70 for some time and they knew him well;  if Bill and Creature let their boss protest an amputee without telling him about it – well, that's a great story too. (And speaking of stories, we are hearing about Hardesty's questionable behavior at Mission Bay Yacht Club a few weeks ago. – ed)
We don't think Neckelmann is some kind of anti-disabled sailing nutbag, but he's a fierce competitor, and as he wrote us yesterday, "Some people in good faith and others in bad faith are playing with modifications.  If these moves are legal we want to do them, if they are not, we want nobody else to do them."  That's fair.  But protesting a heavy metal bar in a bad place when people told you it was legal…it's your right, but it's stupid.
The reality is that Neckelmann's protest was probably a shot across Ronning's bow and an attempt to get into the head of a team that can clearly challenge for the world title – a team that already has plenty of bad blood with the reigning world champion.  Top pros play head games because sometimes, they work.  But this one seems to have backfired, and Neckelmann and Hardesty haven't made any friends with their move; many think they also made their class and the BBS look like shit.
One other thing it did?  It made us pretty excited to watch how steamy this rivalry gets next week in the Berkley Circle.  Nothing fires up interest like a battle before the war.  You can read a full Worlds Preview at the J/70 Facebook Page here.
September 22nd, 2016
Sailing movies are almost universally awful, but there are a few that we hold dear.  "Wind" for obvious and ironic reasons, "White Squall" for a fascinating dramatic take on a horrifying event, Dead Calm for Nicole Kidman's nakedness,  Morning Light for some of the best offshore sailing shots of its time, and Master and Commander for everything else. The Russell Crowe-led film hired pro sailors and riggers to help with the sailing, bought two square rig replicas, spent 9 figures on production, and managed to not only provide historically accurate visions of the Age of Sail at war, but a great adaptation of one of the best seafaring book series of all time.
The guys at History Buffs are perhaps the web's best judges of the historic value of movies, and they took on Master and Commander in this episode that dropped the other day.  It's a great 21-minute look at one of our favorite sailing movies, and the video is above or over here on Youtube.
Thanks to Weinie for the tip.
September 22nd, 2016
Having just passed away on Tuesday, we remember long time big boat racer and North Sails owner Terry Kohler today.  Having cemented his legacy in the sport of sailing when he bought North Sails from Lowell North back in the 80s, and over his remaining years, this larger-than-life Wisconsin character continued to touch thousands in our sport and millions outside of it in both good and bad ways. 
Kohler's actions and activism show a conflicted soul; despite being born with a straight-up gold spoon in his mouth as a scion of Industry, Kohler spent thousands of hours rescuing cranes and swans and millions of dollars trying to save and protect the environment.
At the same time, he was in bed with the Koch Brothers and donated millions upon millions of dollars to elect conservative politicians bent on raping and destroying that same environment. He funded numerous programs dedicated to strengthening marriage and family, at the same time calling  homosexual behavior "aberrant and immoral." 
He grew Windway (North Sails and other businesses) with great success and won almost every major big boat title in existence, but suffered humiliating failures in politics and was voted down from a position on the Wisconsin Board of Regents, never quite measuring up to his ex-governor progenitors.  He was a private and quiet man who mostly shunned the limelight, even as he was known as the single most important power player in Wisconsin politics for decades. 
Terry Kohler loved sailing and his generosity with sailors and support of the sport – especially in the Midwest – was legendary.  For that, we honor him. 
For his part in the rise of the Religious Right and the election of George W Bush, his nasty statements on homosexuality and the ugliness that goes along with those things…well, he was from another era, and we'll all just hope his "Judge" is more lenient than some of the judges and politicians he supported for all those years. 
Fair winds, Terry, and we hope you all enjoy a short anecdote from Brian Hancock about a fun time with Kohler. For those who just want to read a bubblegum obituary from a right-wing pub, here's that.
I am sad to hear that Terry Kohler has moved on to wherever good people go after they have left this planet. I only met him once although I see his name numerous times on my morning ablutions. So here is my one and only Terry Kohler story.
Quite a few years ago I did the Chicago Mackinac race on the boat owned by the then editor of Sailing Magazine – great magazine by the way. Micca Hutchens had asked me to do the race with her but I was on a bit of a time crunch. "Don't worry," she said. "I will organize a ride off Mackinac Island after the race is over."
Now the thing about the Mac race is this. Mackinac island is (I think still today) a car free zone. No cars. Just horses and buggies to get around. Very quaint in fact quaint beyond belief. So we approached the finish line in a thick pea soup fog I had no clue where we were but the navigator assured us that we were close. Then I knew he was not kidding. All of a sudden there was an overwhelming smell of horse shit. Yup we were close indeed.
So the island is car free. Supplies are delivered to restaurants in the morning by horse drawn carts. It's just so awesome; almost something that you would see in Europe. I was told that I was getting a flight out on Terry Kholer's private plane – a Lear Jet if I remember correctly. I was told to meet the plane at the air strip at a given time and I remember it was early in the morning. So I called their version of Uber – yes a horse with a buggy – and we left just as dawn was breaking.
The pony trotted down narrow lanes toward the outskirts of the island. To the small airstrip. As we got close to the runway I saw a jet and some sailor types hanging around so I asked the horse rider guy if he could just take me out onto the runway. Which he did and sure enough it was Terry Kohler's plane and the great man himself was there. "Right then," he said.  "Jump on board."  And I did. I jumped out of the buggy feeling like I had been caught in a time warp, and stepped onto one of the most beautiful planes I have ever been in. The horse and buggy pulled away, the pilot gunned the engine, and with almost a supersonic boom we reentered modern life. What an experience, and so I want to thank Terry Kohler not only for the ride of my life but for all he did for sailing. Terry was after all the owner of North Sails and an avid sailor.
- Brian Hancock.
September 21st, 2016